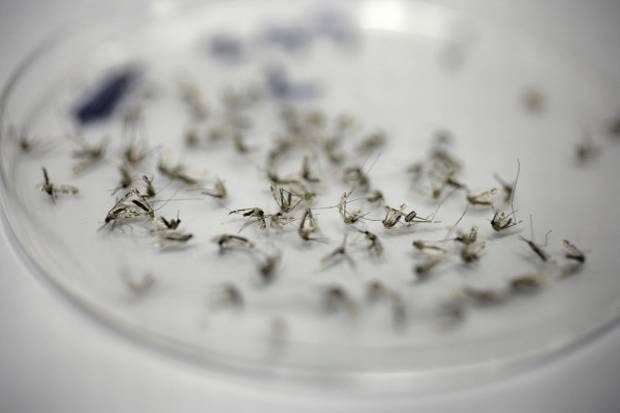 Evans Caglage/Staff Photographer
Mosquitos collected from a trap await examination in the Dallas County Mosquito Lab in early August. The staff records the number captured from each trap, the species and sex, then sends any female house mosquitos to be tested for West Nile virus.
By SHERRY JACOBSON
Staff Writer
a href="mailto:sjacobson@dallasnews.com">sjacobson@dallasnews.com
Statistically speaking, Highland Park was hit hardest this year with severe West Nile infections, according to a reported released Wednesday by Dallas County Health and Human Services.
The town of 8,740 people had the highest rate of neuroinvasive disease caused by the mosquito-borne virus.
Its three cases amounted to an incidence rate of 34 cases per100,000 people. The high ranking was driven by the relatively small size of Highland Park.
In all, 21 cities in Dallas County reported at least one neuroinvasive case for a total of 173 so far this year.
Such a diagnosis means a person tested positive for a West Nile infection and then developed serious symptoms such as meningitis, encephalitis or polio-like paralysis.
The rankings were contained in a report prepared by Dallas County Health and Human Services, which tracked the local West Nile outbreak, the worst since the virus appeared here in 2012.
The report was shared Wednesday with the Dallas City Council.
While the council did not discuss its findings, a Far North Dallas woman shared her experience with the disease last summer, drawing council members' rapt attention.
"I'm a five-month survivor of West Nile virus," said Virginia "Genny" Mantzuranis, clutching the podium and a cane she now uses for walking.
She was infected with West Nile in late July and hospitalized for six weeks as she fought for her life and then struggled to reclaim her ability to walk, talk and think.
"I still have paralysis on the right side of my body," said Mantzuranis, 64. "I'm unable to write."
She urged the council to work to prevent another West Nile outbreak next year. City Manager Mary Suhm responded that the council would begin considering such a plan in January.
Dallas had the highest number of severe West Nile cases, 95, although the city ranked only 10th for the incidence of severe cases at 7.8 per 100,000 people. The incidence rate was offset by the city's 1.2 million population.
Four small cities also landed in the top five for severe infections: Wilmer with one case; University Park, five; Addison, two; and Seagoville, two.
A total of 173 severe West Nile infections were reported this year. All but five victims needed hospitalization. Sixty also spent time in a hospital intensive-care unit.
To read entire story provided by dallasnews.com please click the following link – http://www.dallasnews.com/news/community-news/dallas/headlines/20121205-highland-park-saw-county-s-highest-rate-of-severe-west-nile-infections-dallas-council-told.ece