Bed Bug Pest Control
"Good night, sleep tight, don't let the bed bugs bite."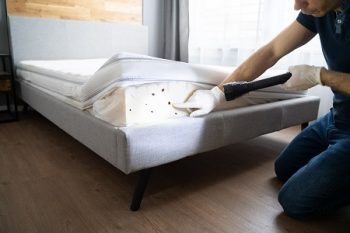 It's a phrase we all have heard before, wishing good tidings for restful sleep. Despite the familiar aphorism, not many people have seen a bed bug. Bed bugs are notoriously difficult to spot and control once they have settled in. Moreover, how tightly one makes their bed does not prevent an infestation.
If you find mysterious bumps and bites on your skin or blood stains on your mattress or furniture, then you likely have a bed bug problem at home. Rusted brown spots are also signs of bed bugs voiding contents in their stomach before looking for the next meal. It's these combined factors that make bed bugs such a nasty pest.
Have bed bugs? Let Buzz Kill Pest Control come to your rescue! Our pest control services are effective, safe, and affordable. We offer pest control services targeting particular pests like bed bugs or preventing the lot. As an established pest control company in Fort Worth, we have branches across the metropolitan that allow us to reach wherever you are in Fort Worth, Dallas or the Mid Cities. If you need bed bug treatment, call us today to begin cleaning your home of a potential bed bug infestation. We can also work to remove fleas, mosquitos, spiders and more!
---
Bed Bug Exterminator Near Me
Bed bugs are more than just a bedtime boogeyman. Historically, bed bugs have represented a notorious byword for uninhabitable homes and businesses. In the late 1800s, mattresses of straw and feathers were the standard and this early bedding made for the perfect bed bug breeding ground.
Nowadays, springs have become the traditional stuffing for mattresses and box springs alike. But bed bugs will still find any mattress, wall outlet or cardboard box comfortable. Any place a bed bug calls home is what exterminators call a harborage.
Bed bugs will feed on humans and other mammals, and birds. In a way, they're like a flea adapted to humans, whereas most fleas stick to your pets. Regardless, it is best to check your pet's bedding for bugs as well.
The potential prevalence of the bed bug makes it essential to partner with a bed bug exterminator when these pests become a problem. There's no better option in the Dallas-Fort Worth Metro than Buzz Kill Pest Control. Our team of experts has more than 30 years of experience dealing with pests of all types, and we have the tools and knowledge necessary to exterminate them from your home or business.
---
Preventative Tips For Fort Worth Homeowner to Keep Bed Bugs Out:
If there's one thing that makes a pest, it's an uncanny ability to invade a space where they don't belong. Many types of problems can crawl through weep holes, tiny cracks around windows and doors, under garage doors, from branches and shrubs that touch the home, eaves, etc. In short, there's a lot of ways for a pest like a bed bug to gain entry. Before looking for a pest control plan, try these many tips and tricks for avoiding a bed bug infestation:
Vacuum your home regularly.
Cover your mattress or box spring in encasements that prevent mites and bed bugs
Avoid clutter, including clothes and bedsheets, on the floor
Clean your bed sheets and clothes regularly
Run laundry after traveling at the highest possible setting
Inspect lodgements thoroughly when traveling
Avoid taking furniture from the curb or dumpster
---
Bed Bug Removal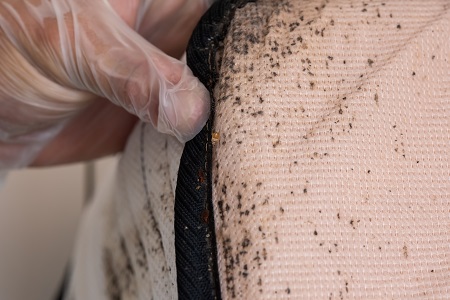 Buzz Kill specializes in bed bug removal and more. We will offer you a bed bug extermination price that is affordable and work with you to ensure your bed bugs never become a problem again.
We also help prevent and prohibit other pests from entering the home. All of our pest control strategies are tried and true. We offer various services, from rodent control and wasp removal to mosquito spraying, trapping, and termite extermination.
We know when you find an infestation of any type, you want it gone as soon as possible and as safely as possible. Our technicians are licensed yearly and constantly updated on the latest pest control methods. We will use all elimination strategies available to quickly remove bed bugs from your home or business. We also use low-impact chemicals that will not pose any health risks to you or your loved ones.
Call Buzz Kill Pest Control and expect only the best customer service. We provide free quotes on our services and pest control plans. If you have more questions about our services, do not hesitate to ask.
Common Questions About Bed Bugs
What kills bed bugs permanently?
We use a plethora of products with a very detail-oriented approach. Eradicating bed bugs often requires a partnership between the pest professional and the homeowner. We use different products labeled for use in specific areas of your home, such as products that are safe to use in areas where you frequently touch, sit, or lay. Bed Bugs often hide in tight cracks and crevices in bed frames, chairs, and mattresses. A comprehensive inspection and treatment is always required.

How long do bed bugs live after spraying?
If a bed bug is treated directly, it will die immediately. It can take hours after it comes in contact with a residual that was treated on a surface.
Is it possible to 100% get rid of bed bugs?
Absolutely! Our Training and processes are so thorough that we give a 60-day guarantee after every treatment.
Neighborhoods
Near East SIde
,
Crestline Area
,
Far Southwest
,
Wesdgewood
,
Ridglea Hills Addition
,
United RIverside
,
Western Hills North
,
Worth Heights
,
Wedgewood South
,
Burchill
,
South Hemphill Heights
,
Arlington Heights
,
Upper West Side
,
Wedgewood East
,
Glenwood Triangle
,
Panther Heights
,
Wedgewood Square
,
Highland Hills
,
Sunset Heights South
,
Meadowcreek
,
Summer Creek
,
Foster Park
,
Caville
,
Sylvan Heights west
,
Sandybrook
,
Trace Ridge
,
Bonnie Brae
,
Westcliff