Looking for Termite Pest Control Near Me?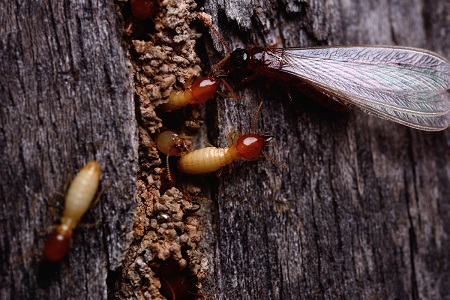 It is always best to call in professionals regarding termite pest control. Despite their small stature, termites can cause a lot of property damage if untreated early on. Not only will they eat the structure of your home or business, but once they're inside, they can damage insulation, sheetrock, books and other items made of cellulose.
If you need a Fort Worth pest control company that specializes in termite control, you need Buzz Kill Pest Control. We have over 30 years of experience, and our reputation as a quality pest control and exterminator business has only grown with plans and products like Termidor HE Termiticide or Trelona Compressed Termite Bait targeting termites. Contact us today if you need to treat, bait or exterminate any termite threat to your home or business.
---
What Are the Termite Infestation Signs to Look For?
If you suspect a termite infestation, there are several signs to watch out for. Some of the surefire signs of a problem include seeing winged termites swarming around your home, finding mud tubes near your foundation or interior, prominent wood damage and uneven paint. Termite colonies use mud tubes as their superhighways into your home, carving a direct path to their buffet table.
---
Our Termite Treatment Works For All Homes and Commercial Properties
Termites will not wait for construction to finish before attacking a building; they will attack when they smell wood in the ground. Working on a construction project? For commercial customers, termite prevention provides an invaluable service to protect your investment. Buzz Kills provides termite inspection and extermination services for any residential & commercial structure in the pre-construction or post-construction phase.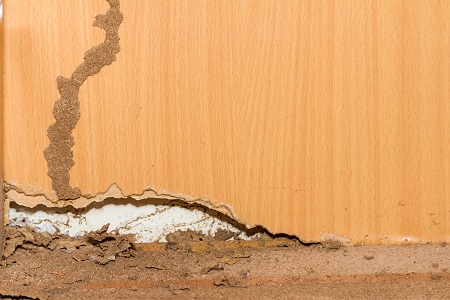 Our termite baiting systems are often installed in the ground right after construction begins. These termite bait stations contain termite bait within them. When they eat the bait, they die. We also use Trelona Compressed Termite Bait for post-construction termite protection to ward termites off your property.
---
We Have Some Pre-Construction Termite Treatment Tips
While you will need a professional termite pest control company to install baits and apply products to the soil or wood to keep any investment safe, there are still some things you can do to prevent future infestations from any properties currently planned. Here's how:
Clear the building site of all stumps, roots, wood and similar materials before you start construction.

Remove all form boards and grade stakes used in construction to avoid potential pests.

Make no contact between the building woodwork and the soil or fill. Exterior woodwork should be 6 inches above the ground at a minimum. Beams in crawl spaces should be at least 18 inches above the ground for future inspections.

Any plants or irrigation should stay two feet away from the foundation.

Thorough annual inspections can find wood damage or termite activity.

Fence posts, poles, and general foundation structures should be commercially pressure-treated and not touch another structure.
---
We Are Your Local Termite Exterminator In Fort Worth
Buzz Kill Pest Control technicians know how to manage any termite problem. Pour pest control experts have been providing termite pest control services in the Dallas-Fort Worth area since 2008. With locations spread over the metropolitan, our pest control professionals can take care of your termite problem no matter where you live or work.
Our advanced treatment options can handle termites and more common pest issues. Should you have any questions about our termite extermination services, pest control plans or are worried that you might have a termite infestation, don't wait. Call Buzz Kill today for a free inspection and estimate.
Neighborhoods
Near East SIde
,
Crestline Area
,
Far Southwest
,
Wesdgewood
,
Ridglea Hills Addition
,
United RIverside
,
Western Hills North
,
Worth Heights
,
Wedgewood South
,
Burchill
,
South Hemphill Heights
,
Arlington Heights
,
Upper West Side
,
Wedgewood East
,
Glenwood Triangle
,
Panther Heights
,
Wedgewood Square
,
Highland Hills
,
Sunset Heights South
,
Meadowcreek
,
Summer Creek
,
Foster Park
,
Caville
,
Sylvan Heights west
,
Sandybrook
,
Trace Ridge
,
Bonnie Brae
,
Westcliff