Roach Pest Control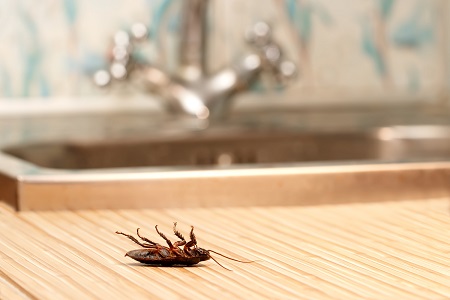 If there's one commonly held myth about pests, it's that roaches and Twinkies will inherit the earth. For one of the common pests, they seem indestructible at times, and the average roach spray or store-bought extermination option can only get your efforts so far. When roaches start infiltrating your home, it can feel apocalyptic. There's only one way to remove a roach invasion from your home or business in Fort Worth: call Buzz Kill Pest Control.
We are the premier cockroach control and exterminator service in Fort Worth. Founded in 2008, we have over 30 years of combined experience in the pest control industry. The Buzz Kill team of knowledgeable technicians is state certified and updates their licenses every year. We keep ourselves up-to-date on the latest technologies, materials and strategies, so you don't have to.
Our branches are spread throughout the Dallas-Fort Worth metropolitan area, meaning we can reach any location with our services. Buzz Kill offers pest control plans tailored to your exterminator needs, including species, treated area, and budget.
---
Signs Your Home Or Business Has a Cockroach Infestation
When it comes to figuring out if your home or business is suffering a scourge of roaches, there are a few signs to search for and find. None of them are sanitary, and all of them will cause health issues later down the road. If you discover one or more of these signs, call Buzz Kill's professional roach exterminators immediately and begin the cleanup process.
Look out for long, black pellets around the home. They might look like dirt but have a more execrable origin. If you find cockroach droppings, be assured: the invasion is in full effect.
If you begin to smell an unpleasant odor with no easily recognizable origin, you might be smelling the scent of cockroaches. They leave a residue scent similar to urine wherever they have crept around.
The unsightly, authentic cockroach skin makes for irrefutable proof that your home has unwelcome guests. Cockroaches shed their exoskeleton regularly. As these pests grow, they will shed up to 8 times before adulthood.
---
Cockroach Exterminator
All of the signs mentioned above render roaches a health hazard. This information does not intend to scare. However, humans have had a historical aversion to cockroaches, and there are several scientific reasons why they engender our disgust.
These bugs carry over 30 kinds of bacteria, including E.coli and Salmonella. They can trigger asthma attacks in younger children. They will leave their droppings around food sources, contaminating the food and surfaces and utensils. Furthermore, the National Institute of Environmental Health Sciences (NIESHA) reports that roach saliva, droppings, and decomposing bodies can introduce and develop allergens in younger children.
If you are dealing with a roach infestation, you need to call a cockroach exterminator as soon as possible. Roaches can be challenging to get rid of and quickly spread throughout your home or business. Professional pest control services can help clean up signs of roach infestation and set up a prevention barrier to keep them from entering the home or business for a limited time.
---
Roach Exterminator Near Me
Buzz Kill Pest Control has served the Dallas-Forth Worth area since 2008. We have multiple locations across the metro, which means no matter where you live or work in the Dallas area, we can help remove any pest at any time. At Buzz Kill Pest Control, our pest control experts will make sure to get rid of roaches and keep them gone.
We tailor our treatment programs to your needs and work with you to ensure that your home or business stays pest (and roach) free. Contact us and receive a free estimate on your chosen pest control, prevention or extermination today!