Pest Control Services From Forth Worth To Dallas And Everywhere In Between
If you are looking for pest control service near Fort Worth, TX, then Buzz Kill Pest Control is certainly a great option. Since 2008 we have continued to recommend practical pest control strategies to keep homes and businesses safe from all types of pests. Our customer service is always friendly and knowledgeable, ensuring that you get the best advice and expertise during every visit. We offer service plans tailored to individual needs, making sure that our pest control and extermination treatments are thorough and helpful. Our technicians provide great attention to detail, so you can rest easy knowing your space is well taken care of!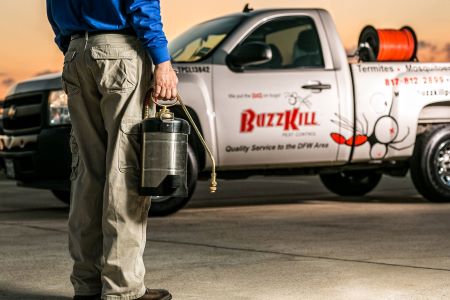 ---
Protect Your House With Our Reliable Pest Services
At Buzz Kill Pest Control, we strive to provide the highest customer service and professional solutions for homeowners in the Fort Worth area. Our years of expertise allow us to accurately inspect your home and identify any potential pest problems. We then develop a custom treatment plan to ensure that our customers not only receive adequate protection, but also value for their money. Our mission is to make sure your family and home remain safe while being an affordable resource.
We Work In Many Neighborhoods Throughout Fort Worth, TX, Including:
Arlington Heights
Ridglea Hills
Tanglewood
Westcliff
Wedgwood
Call Buzz Kill Today To Schedule A Pest Inspection
Crestline Area
Far Southwest
United Riverside
Sunset Heights South
Trace Ridge
---
No matter what pest problem you have, we've got a solution.
At Buzz Kill Pest Control, we understand the strain and discomfort that pest problems can bring. That's why we offer a wide range of pest control services to suit any issue or concern you may have. From insects and rodents to mosquito misting systems and more, our team has the professional experience and expertise to effectively deal with your pest problem no matter what it is. We always strive for excellent customer service, providing personalized solutions with quick response times so you can get back to your everyday life without worry. Contact us today – let us help you reclaim your home!
Our range of services includes:
Commercial Pest Control
Exterminator
Rat Exterminator
Roach Exterminator
Flea Exterminator
Bed Bug Exterminator
Termite Control
Ant Control
Mosquito Control
Spider Pest Control
Wasp Removal
And More
Buzz Kill Is Located Just A Short Drive From Your Favorite Destinations!
Buzz Kill Pest Control makes it easy to keep your home or business safe from unwelcome pests. We are a locally-owned and operated company, meaning you can trust us to handle all of your pest control needs quickly, conveniently, and effectively. With our nearby location, we can provide excellent service without interrupting your plans. We're just a short drive from your favorite locations in Forth Worth, TX, including the Fort Worth Zoo, River Legacy Park, and the Fort Worth Stockyards. Don't let pests ruin your plans – call Buzz Kill for fast, reliable service today!
Add Buzz Kill To The Next Stop From Your Local Transit Stations!
At Buzz Kill Pest Control, we understand how difficult it can be to access pest control services in your community. Whether you're coming from the Fort Worth Central Station, Mercantile Center Station, or Dr. Dennis Dunkins Transit Center, our team looks forward to helping you with your pest control needs. We take pride in providing top-notch customer service and quality pest control solutions – no matter where you live or what your budget is. With a focus on accessibility here at Buzz Kill Pest Control, we're ready and willing to help keep your home or business safe from pests.
Frequently Asked Questions About Pest Control In Fort Worth, TX
Q: What types of pest control services are available in Fort Worth, TX?
A: Pest control services in Fort Worth, TX may include the treatment of ants, cockroaches, mice, rats, fleas, ticks, termites, and other common household pests. At Buzz Kill, we offer both residential and commercial pest control services and create unique treatment plans to fit your needs.
Q: How much do pest control services cost in Fort Worth, TX?
A: The cost of pest control services in Fort Worth, TX will depend on the size of the area being treated, the type of pests being controlled, and the severity of the infestation. At Buzz Kill Pest Control, we offer a free inspection during which we will assess your current situation and provide a quote for the necessary treatment.
Q: Are pest control services safe for humans and pets?
A: Most pest control products and treatments used by professional companies are safe for humans and pets when used as directed. However, it is always a good idea to follow the precautions and instructions provided by the pest control company to ensure the safety of your family and pets. Our team at Buzz Kill Pest Control will always notify you if any additional precautions are necessary during your treatment.
Check Out Some Of Our Reviews From Local Customers!
"Buzz Kill was the best. Rick arrived on time, was friendly and professional, and got our fire ant extermination done. The front office beforehand was very friendly and efficient, and texted us appointment reminders. Well done, Buzz Kill!"
-Mark S.
"Buzz kill did a amazing job installing my mosquito misting system. We love the fact we can be outside and enjoy our backyard in the spring and summer months. We highly recommend them to anyone who wants to stay mosquito free."
-Patrick C.