If you're a homeowner, chances are you'll experience a pest issue at some point. It's common for homeowners to have to call pest control services. However, it's still natural to be concerned about the safety of pest management products, especially when it comes to your children and pets. Since these products are used for getting rid of pests, it makes perfect sense to be cautious. This blog post will discuss the safety of pest control as a process and what it means for your household so you can be informed when contacting your local pest control company.
What is pest control?
Pest control refers to the practice of managing or eliminating pests, such as insects and rodents, in a residential or commercial setting. The goal of pest control is to minimize the negative impact that these pests can have on human health, property, and the environment. Pest control methods can include physically removing pests from a location, using traps or baits to attract and eliminate them, and applying chemical pesticides.
Is pest control safe?
When it comes to pest control, safety for your family and pets is a top priority. Fortunately, modern pest management methods have evolved to be highly targeted, reducing potential exposure for all household members. Additionally, professional exterminators are trained in safe application techniques and use approved products that have been rigorously tested for effectiveness and safety. It's important to remember that pest management treatments may require temporary precautions, such as restricting access to treated areas until they are thoroughly dry. By following these guidelines and working with a trusted professional company, you can control pests while ensuring the safety of your family and pets.
How can I minimize the risk to my household during pest control treatment?
As a homeowner, it is important to take all necessary precautions during pest control treatment to ensure the safety of yourself and your family. Doing the following will help ensure safe and effective pest control:
Discuss options
First, you want to sit down with your potential pest control technician to discuss the various methods and products they will be using. This way, you can ask any questions you may have about their safety and how they will impact your family. It is also a great way to avoid any unforeseen circumstances that may jeopardize your family's safety before you commit to pest control. You can also ask for the safety information on the products they'll be using. This way, you can make sure you're making an informed decision.
Prepare your home
Second, take the time to prepare your home for pest treatment. This means moving any sensitive items – like children's toys or pets' food and water bowls – out of the way or covering them with plastic sheeting. You may also want to consider evacuating your family during the treatment, especially if you have young children or pets. Your pest control service provider should let you know what measures are necessary.
Get written information
Also, a good pest control company will usually provide clients with information about the products they use and their safety (material safety data sheet). This way, you can refer back to it in case of any questions or concerns down the road. It will also help with your due diligence in ensuring a safe pest control process. It makes sure everyone is on the same page regarding the treatments.
Follow instructions
Finally, make sure to follow all of the safety instructions provided by pest control technicians. This includes keeping kids and pets away from treated areas until it is safe to use them again.
Do I need to leave my home during pest management treatment?
In most cases, you will not have to leave your home during pest management treatment. However, if the pest management service uses a chemical pesticide that requires evacuation, they will let you know ahead of time. Ideally, discussing this with professional pest control services before they begin treatment would be best so you're both on the same page.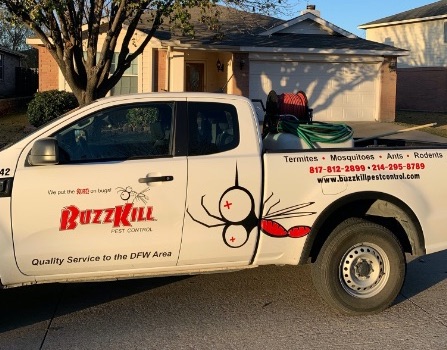 Is DIY pest control safe?
When dealing with pest infestations, the safety of your family and pets is a common concern. And while it may be tempting to use DIY solutions or over-the-counter pesticides, these methods can often cause more harm than good. In fact, many household pesticides have been linked to an increased risk of cancer and other health problems in both humans and animals. The best option for ensuring the safety of your loved ones is to hire a professional pest control service. These experts are trained to effectively eliminate pests without putting anyone's health at risk. Additionally, they have access to targeted and more effective products that may not be available for consumer use. So when it comes to protecting your family and pets from harm, trust in the expertise of a professional pest control service.
Do you still have some unanswered questions? Press here.
Your Local Pest Control Company
At Buzz Kill Pest Control, we have over 30 years of combined experience in the art of pest control for the Dallas-Fort Worth area. Our team of licensed technicians is committed to staying up-to-date on the latest standards and practices so that we can offer a comprehensive solution that uses low-impact and green chemicals to curb current pest activity. We have locations across the North Texas metroplex, including Dallas, Fort Worth and North Richland Hills, which means we can resolve any pest issues anywhere, any time. With Buzz Kill, you can find peace of mind knowing that any unwanted pests do not return.
Our service plans for residential and commercial property owners include the following: 
Rodent Control, Rodent Prevention, and Rodent Removal
Termite Inspections, Termite Treatments, and Termite Control
Bed Bug Infestation Services
And Much More!
Contact us today to schedule a free pest inspection!