est control Dallas and Fort Worth we deal with the occasional invader's year round. Many customers are sprayed on a regular pest control basis to prevent these bugs from invading their home or business. Typically a general pest treatment will take care of these pests in and around the home.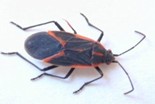 Boxelder Bug
Boxelder bugs get their common name from the fact that they are often found on and around boxelder trees. This species is native to the western states, but can be found from eastern Canada throughout the eastern United States, and west to eastern Nevada wherever boxelder trees are found.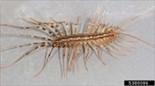 Centipedes
Centipedes are sometimes called "hundred-leggers" because of their many pairs of legs, but they can actually have anywhere from 15-177 pairs of legs, depending on the species. Interestingly, centipedes always have an odd number of pairs of legs.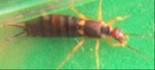 Earwigs
Earwigs got their name from the myth that they crawl into sleeping people's ears and tunnel into their brains. The long cerci, or clippers, on their backsides easily identify an earwig.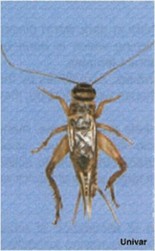 House Crickets
House crickets get their common name from the fact that they often enter houses where they can survive indefinitely. Interestingly, they are known for their loud chirping which is caused by rubbing their front wings together to attract females.
Ladybug
Ladybugs are also known as lady beetles or ladybird beetles. Most species of this beetle family are highly beneficial insects, but some have a habit of overwintering in structures, leading them to become nuisance pests. Ladybugs are found worldwide with about 475 species located in the Unites States and Canada.
Millipedes
Millipedes are sometimes called "thousand-leggers" because of their many pairs of legs, but they can actually have anywhere from 30-90+ pairs of legs, depending on the species. The leggiest is Illacme plenipes, which can have more than 333 pairs of legs.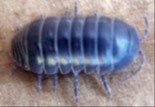 Pillbugs (Rollie Pollies)
This pest is the only crustacean that has become completely adapted to spending its life on land. Pillbugs have oval bodies and seven pairs of legs. They are easily recognized by their back, which is made up of seven hard individual plates. Pillbugs are sometimes referred to as rollie-pollies.
Silverfish
This insect gets its name from its silvery, metallic appearance and fish-like shape and movements. Silverfish have no wings, but are able to run very fast. They tend to hide their presence from humans which means any damage they have caused could go unnoticed as well.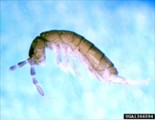 Springtails (Snow Fleas)
Certain species of springtails are referred to as "snow fleas" when found in winter, but they are not fleas at all. Springtails are found year round, but because of a special protein that acts like anti-freeze, this type of springtail is able to survive in cold winter temperatures. Springtails don't have wings, instead they get around by jumping, using a unique catapult system. Their jumping is especially noticeable in winter when they are contrasted against white snow.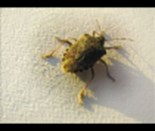 Stink Bugs
This insect, notorious for its "smelly" reputation, earned its name from its tendency to release an odor when disturbed or when crushed. Many other insects have these same characteristics, including some species of ants, beetles and other bugs. Most stink bugs are herbivorous and use their piercing and sucking mouthparts to feed on plant juices. A few common species of stink bugs are predatory and use their mouthparts to drain fluids from caterpillars and other pest insects.